Whitchurch Local History Society holds friendly, informal meetings from September to May and arranges 'field trips' in the summer months. We put on an interesting programme of talks, mostly with digital or slide illustrations, and we try to feature a broad range of topics. These can include local or regional subjects, social history, or features about notable places and people. The talks are followed by question and answer sessions with the guest speakers. The evenings include refreshments.
These talks are open to members but also to any visitors who may want to come along just for specific talks. Set out here is the outline programme for 2017 – 2018 and we hope there is something to interest everyone. Just come along.
---
History Society News
WHITCHURCH—NEW BOOK!!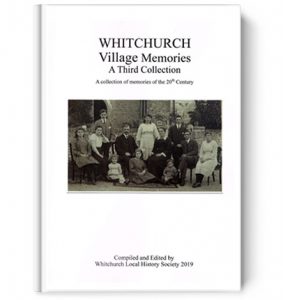 Whitchurch Local History Society has just published this illustrated 56-page A4 size book which is the 3rd volume of 'memories of Whitchurch life' contributed by residents.
It costs £5.00 and copies are available by contacting:-
Keith (01275 541512), Sue (01275 834677) or  Geoff (01275 830869)
---
Announcement from the Secretary: Geoff Gardiner
(16th March 2020)
The Committee has decided to cancel /postpone the meetings scheduled for March, April and May for obvious reasons.
I hope the talks will be re-booked for next season.
We will take a later view on when /how there will be an AGM.
I am sorry to send you this 'instruction' but I expect you all realise that, apart from the government's advice, the Society does have a duty of care for its members and appreciates that most of you are within the categories specified today.
I'll be in touch as and when we can see where we will be going later on.
Cheers
Geoff
---
2020
FRIDAY 31st January
FROM BRYCGSTOW TO BRISTOL IN
45 BRIDGES
Speaker – Jeff Lucas
FRIDAY 28th February
SOMERSET WINDMILLS and WINDMILLERS
Speaker – Sarah Harris
FRIDAY 27th March
LIGHTHOUSES OF THE SEVERN CHANNEL
Speaker – John Page
FRIDAY 24th April
GIANT OF THE AIR – THE BRISTOL BRABAZON
Speaker – Chris Bigg
FRIDAY 29th May
ANNUAL GENERAL MEETING
followed by
tba
For up-to-date information on our events, please contact the Secretary or check online at www.alha.org.uk or www.whitchurchvillagecouncil.co.uk
MEETINGS held at WHITCHURCH UNITED REFORMED CHURCH at 7.30 p.m.
Fees
ANNUAL MEMBERSHIP SUBSCRIPTION – £10 Per Person plus £1.00 per meeting.
VISITORS £4.00 per meeting. Refreshments included.
For more information about the Society contact the
SECRETARY: Geoff Gardiner,

Telephone Number: 01275 830869; email: geoff@thegardiners.org.uk