Whitchurch Local History Society holds friendly, informal meetings from September to May and arranges 'field trips' in the summer months. We put on an interesting programme of talks, mostly with digital or slide illustrations, and we try to feature a broad range of topics. These can include local or regional subjects, social history, or features about notable places and people. The talks are followed by question and answer sessions with the guest speakers. The evenings include refreshments.
These talks are open to members but also to any visitors who may want to come along just for specific talks. Set out here is the outline programme for 2017 – 2018 and we hope there is something to interest everyone. Just come along.
---
History Society News
WHITCHURCH—NEW BOOK!!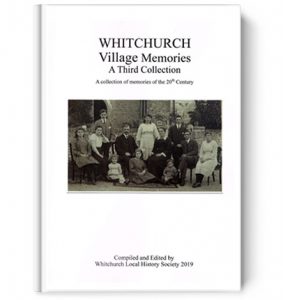 Whitchurch Local History Society has just published this illustrated 56-page A4 size book which is the 3rd volume of 'memories of Whitchurch life' contributed by residents.
It costs £5.00 and copies are available by contacting:-
Keith (01275 541512), Sue (01275 834677) or  Geoff (01275 830869)
---
2018
Updated 08.08.2018
FRIDAY 28th September
TYNTESFIELD – THE HOUSE, FAMILY AND THE VISION
Speaker – Terry Stevens
FRIDAY 26th October
NO NEWS OF FRED
(A Family's story from the Great War)
Speaker – Jacqueline Wadsworth
FRIDAY 30th November
MILK, COAL AND ANY OLD IRON
(Home Shopping before the internet)
Speaker – David Cheesley
2019
FRIDAY 25th January
METHODISM AND ITS SOCIAL IMPACT ON 18TH CENTURY BRISTOL
Speaker – Gary Best
FRIDAY 22nd February
CLEVEDON PIER – 150 YEARS OF RESILIENCE
(The Life of a Victorian Pier)
Speaker – Abbie Edbrooke
FRIDAY 29th March
THE SOMERSET COALFIELD AND RADSTOCK MUSEUM
Speaker – Nick Hall
FRIDAY 26th April
SECRET UNDERGROUND CITIES
Speaker – Nick McCamley
FRIDAY 7th June
ANNUAL GENERAL MEETING
followed by
Rare Odds and Sod from his Collection
Speaker – Mike Hooper
For up-to-date information on our events, please contact the Secretary or check online at www.alha.org.uk or www.whitchurchvillagecouncil.co.uk
MEETINGS held at WHITCHURCH UNITED REFORMED CHURCH at 7.30 p.m.
Fees
ANNUAL MEMBERSHIP SUBSCRIPTION – £10 Per Person plus £1.00 per meeting.
VISITORS £4.00 per meeting. Refreshments included.
For more information about the Society contact the SECRETARY: Geoff Gardiner,

Telephone Number: 01275 830869; email: geoff@thegardiners.org.uk