Whitchurch Local History Society holds friendly, informal meetings from September to May and arranges 'field trips' in the summer months. We put on an interesting programme of talks, mostly with digital or slide illustrations, and we try to feature a broad range of topics. These can include local or regional subjects, social history, or features about notable places and people. The talks are followed by question and answer sessions with the guest speakers. The evenings include refreshments.
These talks are open to members but also to any visitors who may want to come along just for specific talks. Set out here is the outline programme for 2017 – 2018 and we hope there is something to interest everyone. Just come along.
---
History Society News
WHITCHURCH—NEW BOOK!!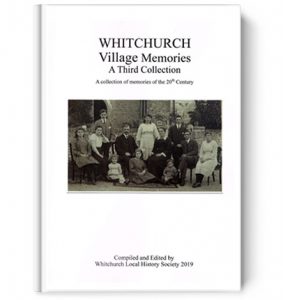 Whitchurch Local History Society has just published this illustrated 56-page A4 size book which is the 3rd volume of 'memories of Whitchurch life' contributed by residents.
It costs £5.00 and copies are available by contacting:-
geoff@thegardiners.org.uk
NOW REPRINTED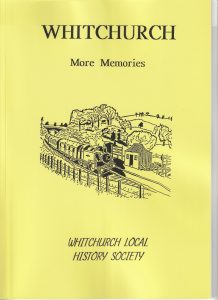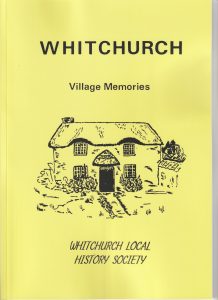 WLHS has now issued re-prints of these two books originally published in 1980 and 1997
These are available at £5.00 each from The Music Box Shop on the main road in the Village or from
Keith Stenner (01275 541512), Geoff Gardiner (01275 830869) or Susan Subow (01275 834677)
Post and packaging is £2.00 for 1 book or £2.50 for 2 books
---
Announcement from the Secretary: Geoff Gardiner
(21st September  2020)
We hope you are all keeping well in the continuing 'unprecedented times' as they are known.
The Committee has met to consider what the Society should do in the coming months as we approach what would normally be the new season of meetings and talks. Regrettably we have decided that we should not hold events for the next few months, certainly prior to the New Year.
 There are too many uncertainties regarding possible future 'lockdowns', social distancing rules and the fact that there is at present no foreseeable end to the current variable situation or definite timescales for the availability of vaccines. There are also constraints in numbers of people permitted at our venue and the practical matters that need addressing in order to comply with the Church's rules. Many speakers are not prepared to commit themselves to dates for the time being and also we do not know how many of you will be prepared to come along anyway with some known to be in 'vulnerable' categories. 
We sincerely hope that we will be able to resume normal service in the New Year and that you will all continue to support our Society. It would be appreciated if you could all give us some indication of your feelings about this please.
Now for the good news – we hope! In response to many requests we have looked into the reprinting of the first two volumes of the 'Memories' books.  We have obtained quotations for the work and have submitted a Grant Application to the Village Council for support for the project.. We only have a few copes of Volume Three remaining if you know of anyone interested.
Finally, for now, we intend to keep in touch with you during the coming months and we will, of course, be delighted to receive your own 'memories' stories of Whitchurch including how you have been spending your time and whatever you can classify as the 'highlights of the lockdown times'.
We wish you all well and hope to see you soon
Cheers
Geoff
WLHS Committee
---
2020
FRIDAY 31st January
FROM BRYCGSTOW TO BRISTOL IN
45 BRIDGES
Speaker – Jeff Lucas
FRIDAY 28th February
SOMERSET WINDMILLS and WINDMILLERS
Speaker – Sarah Harris
FRIDAY 27th March
LIGHTHOUSES OF THE SEVERN CHANNEL
Speaker – John Page
FRIDAY 24th April
GIANT OF THE AIR – THE BRISTOL BRABAZON
Speaker – Chris Bigg
FRIDAY 29th May
ANNUAL GENERAL MEETING
followed by
tba
For up-to-date information on our events, please contact the Secretary or check online at www.alha.org.uk or www.whitchurchvillagecouncil.co.uk
MEETINGS held at WHITCHURCH UNITED REFORMED CHURCH at 7.30 p.m.
Fees
ANNUAL MEMBERSHIP SUBSCRIPTION – £10 Per Person plus £1.00 per meeting.
VISITORS £4.00 per meeting. Refreshments included.
For more information about the Society contact the
SECRETARY: Geoff Gardiner,

Telephone Number: 01275 830869; email: geoff@thegardiners.org.uk