Bath's clean air zone is set to launch on Monday 15 March 2021 to urgently improve air quality in the city. It means that most higher emission vehicles – except private cars and motorbikes – will be charged to drive in the city centre.
A higher emission vehicle is a Pre Euro 6/VI diesel vehicle (Euro 1 to 5/V or earlier) or Pre Euro 4 petrol vehicle (Euro 1 to 3 or earlier).
You can now check whether your vehicle will be charged using your vehicle registration number at GOV.UK's Central Clean Air Zone Service: www.gov.uk/cleanairzone.
If charges apply, please refer to Bath & North East Somerset's website for a list of local exemptions and whether you might be eligible for financial support to upgrade or replace a non-compliant vehicle or fleet of vehicles.
While private cars are not charged in Bath's zone, the Council is asking everyone to consider whether they need to use their vehicle, especially for short trips where walking, cycling or taking public transport is possible. We all have a part to play in improving air quality.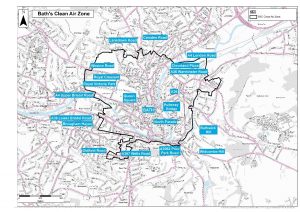 To find out more, go to www.bathnes.gov.uk/BathCAZ